Greetings researchers, ontologists, scientists, and kosmosans...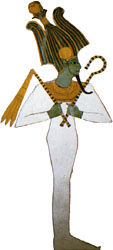 Binaural tones
involve both ears. Entrainment modifies the phase or period of something towards a desired frequency. Tones and vibrations are used to entrain the brain, quartz-crystal, minerals, and DNA. When each ear is introduced with two tones differing in frequency the listener distinguishes a third tone known as the binaural tone or binaural beat. It is the difference between the two frequencies that renders a stereophonic experience, such as life. Sound forms radiant energy (wbnw). The harmonic combination of two tones an octave apart is called an octave (i.e., the same note repeated at a higher pitch). Paa Khemenu contains four octaves. For instance,
Amunet and Amun
are an octave apart;
Nunet and Nun
are an octave apart;
Keket and Kek
are an octave apart; and
Hehet and Heh
are an octave apart. The four octaves inscribe the acronym
A-N-K-H
, which is the
womb-manifestation
and
ma-terra-lization
of life, existence (Paa Paut). Each of the four snake goddesses and four frog gods is symbolic of the dual nature of light e.g. wave or string phenomenon (snake) and particle or quantum phenomenon (frog). Like binaural tones entering the ear, the binaural nature of Paa Khemenu creates a tertiary experience in Paa Akh (ether). The Sun, Paa Re, has a very low frequency, a very deep voice, broadcasted every five minutes. The frequency broadcasted to planet Earth, from the Sun every five minutes, is about
3 milli cycles per second
(3mHz). This frequency resides outside the hearing range (20 cps to 20,000 cps) of the human ear. But if you were to speed up the frequency 100,000 times, that will place the Sun's voice in the audible range of
300 cps
, which corresponds to the musical note
middle D (AUM)
. In the solfege system of music, the name for the musical note D is
RE
, which implies that sound forms light. According to one aspect of ancient Tamarean creation, the Heron or bnw was the means through which ATUM came into existence. The word Benu (bnw) is related to the verb wbn or wbnw (to rise in radiance).
Quote:
158. Yet, all thoughts and thinking comes from the reservoir of mental nothing new under the RE "sun". The Abode of Tone by that is meant sound form light or the 8 notes of octaves of Paa Khemenu or The Ogdoad (Paa Munzul Nazour: Amun Nebu Re Akh Ptah(Djedi), n.d., p. 19).
Pa Neter Ra (The Golden One of Atun-RE)
Nine to the Ninth Power of Nine, The Nubian Number
The Elements, Mathematics, and Arithmetic (T-E-M-ARI)
9 x 13
References
Amun Nebu Re Akh Ptah (n.d.).
Actual fact # 17: Emotional energy
. United Nuwaupians Worldwide.
Sound of the Sun
AUM